Greetings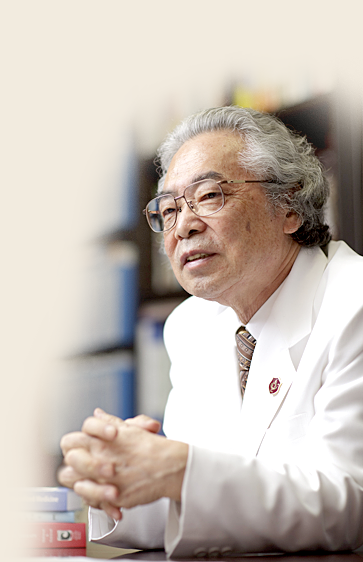 As a long time clinician, I am passionate about saving the lives of people suffering from disease and in preventing the recurrence of illnesses, as well as the clinical research needed to do so.
With the rapid development of modern medicine in the 20th century, medical treatment based on organ systems and diseases were brought forth. However, in the 21st century, as the relationship between disease and genetics began to be elucidated, treatments based upon genetic mutations, that is, personalized medicine (precision medicine) began to spread. Hereafter it will be natural for us to study genes and find a precise treatment for diseases such as hypertension, heart disease, diabetes, dementia, and cancer.
We have been implementing personalized medicine for more than a decade, incorporating precision blood tests such as genetic testing and liquid biopsy. Particularly in cancer, examining patients' cancers at the genetic level, helps diagnosis, treatment, prognosis, management, and prevention. Emphasis is placed on patient safety, the least possible side effects, and maintaining quality of life. Our focus is on treating at the cellular, molecular and genetic level, using immunotherapy and gene therapy.
We also recognize the importance of preventive medicine from the treatment experience of cancer survivors. We strive to prevent the recurrence of cancer, as well as various illnesses, including those caused by the effects of chemotherapy, such as heart disease. In currently healthy individuals, we will also determine the risk of cancer and dementia, and will actively strive to prevent them from developing disease.
My motto is "There are no boundaries in health care".
The door to our clinic is wide open. Please feel free to knock on our door.
Chairman of the Board
Hiroyuki Abe, M.D., PhD.,FACC, FACCP
Biography
Graduated from Sapporo Medical University. Doctor of Medicine. After interning at Keio University Hospital, he studied in the United States.
Research fellow at Hahnemann Medical School, clinical fellow at the University of Pennsylvania Children's Hospital, clinical fellow at the Cleveland Clinic.
Juntendo University instructor, Nihon University assistant professor, Stanford University visiting professor, University of California visiting professor, Kyorin University visiting professor. In 1988, founded the Hakushin Koseikai Medical Foundation.
Currently, he is the honorary director of Kudan Clinic and president and chairman of Tokyo Cancer Clinic. His goal is to treat as many patients with kindness and dignity that brings happiness in life.
In recent years, he has focused on clinical research and treatments using immune cell therapy for cancer, especially Dendritic Cell vaccines, and has obtained patents for his technologies in Japan, the United States, and numerous other countries.
He has presented his research at academic societies in Japan and abroad, including the American Cancer Society, the Japanese Cancer Society, and the Forum on DC Vaccines.
In May 2002, he was awarded by the World Life Research Institute, USA for his "great contribution to cancer treatment and prevention". He also received an award from the Cancer Control Society for "achievements in research on natural medicines used in cancer and immunotherapy."
In April 2013, he was honored by the International Society of Orthomolecular Medicine for his contribution in the dissemination of orthomolecular medicine, and was inducted into the Orthomolecular Hall of Fame in 2013.
He also serves as president of the International Society of Personalized Medicine.
Major books
"Ovarian Cancer Immunotherapy" Chapter 9 (Oxford University Press)
"What should I do if I am diagnosed with cancer? 50 questions and answers for Dr. Abe" (Hokushindo Press)
"Choosing a treatment so that you don't die of cancer – The secret of apoptosis" (Tokuma Shoten)
"Current Cancer Treatment – Novel Beyond Conventional Approaches", "Cancer Treatment – Conventional and Innovative Approaches" (InTech)
"Kogane Nasu Akebono" (Bungei Shunju)
"Personalized Medicine Text Book" (Translation/International Society of Personalized Medicine)
"The latest cancer immune cell therapy – From lymphocyte therapy to Dendritic Cell cancer vaccine" (Nagai Shoten)
And many other publications.